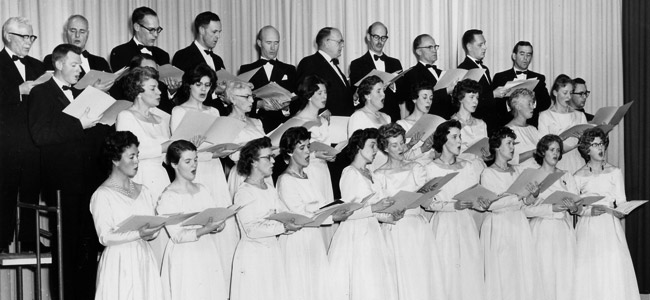 Now approaching its 57th Season, The Festival Chorus has been lauded by Calgary Herald reviewer Kenneth Delong as one of Calgary's pre-eminent choral groups – "able to deliver the excitement and choral thrill that only a fine choir can." Under the direction of Artistic Director, Mel Kirby, the Chorus has been applauded for its professionalism, musicality and inventive programming.
The auditioned members of the Chorus perform an annual series of three concerts, presenting the staples of a five-century-old choral repertoire – everything from the larger oratorio works requiring massive, stirring sound, to that of more intimate a capellachamber works and swinging jazz selections.
The Festival Chorus was founded by Gerald Bales, O.C. and John Searchfield during the 1958-1959 season to perform a Handel-Purcell Festival. It became a standing amateur, community chorus and was conducted by John Searchfield until 1979 and then by Dr. Brian Trevor from 1979 to 1991.
The Festival Chorus built its reputation on annual Good Friday performances of full-evening oratorio works such as J.S. Bach's Mass in B Minor and St. John Passion; Handel's Israel in Egypt, Judas Maccabeus, Solomon, and Joshua; Haydn's The Creation, Mozart's 'Great' Mass in C Minor, Brahms' A German Requiem and Mendelssohn's Elijahand St. Paul and, in the realm of 'early music', Monteverdi's Vespers of the Blessed Virgin 1610. The oratorio concerts are no longer held on Good Friday but the musical tradition continues.
Exploring an ever widening range of contemporary choral repertoire, The Festival Chorus has given the Calgary premieres of Rutter's Magnificat, Honegger's King David, Ramirez's Misa Criolla, and the Western Canadian premieres of Missa Gaia [Earth Mass] and Scott MacMillan's Celtic Mass for the Sea. Commenting on the latter, the Calgary Herald review noted that "the overwhelming applause and standing ovation…left no doubt about one thing–this was an unqualified popular success".
To commemorate its 50th Golden Anniversary season in 2008-09, The Festival Chorus, commissioned and gave the world premiere of Choral Scenes from Dicken's A Christmas Carol, a major new work by the Alberta-born, Canadian composer, David L. McIntyre, made possible by a major grant from The Calgary Foundation.
The Festival Chorus is committed to 'World music' or multi-cultural choral repertoire and other 'music of our time', which reflects the ethnic and intergenerational diversity of Festival Chorus members, its audience, and the shrinking boundaries dividing world cultures. Recent performances of Estonian, Latvian, Slavonic, Scandinavian, Spanish, Mandarin, Korean and Japanese music have been given sung in their original languages. The Festival Chorus has truly come to be known as the Calgary Chorus "to deliver the musical goods" (Calgary Herald review)
The Festival Chorus takes an active role in Calgary's musical community by working in collaboration with other prominent area ensembles such as the Foothills Brass, Altius Brass, the University of Calgary Wind Ensemble and Percussion Ensemble, Bergmann Piano Duo, Calgary Boy's Choir, Cantaré Children's Choir, and Renaissance Singers. Other performance partners have included the Polyphonic Choir of La Matanza, Argentina, Vancouver Welsh Men's Choir, the Canadian Brass, and the Kronos Quartet with whom the Chorus presented the Canadian premiere of Terry Riley's multi-media extravaganza Sun Rings at One Yellow Rabbit's 2004 High Performance Rodeo.
Other major Canadian and international artists who have appeared with the Chorus include Ben Heppner, Gary Relyea, Henriette Schellenberg, Allan Monk. Daniel Lichti, Bernard Turgeon, Glyn Evans, Richard Margison, The New York Bach Aria Group, Catherine McKinnon, and W.O. Mitchell.